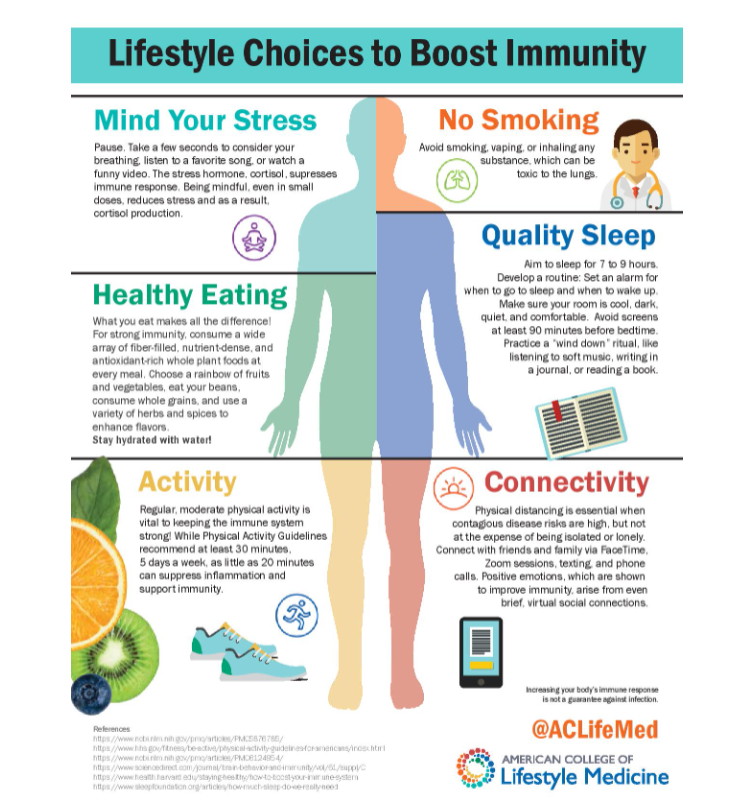 Ask the expert – how can I improve my immune system? It is possible to boost the immune system at any age with fairly simple techniques that anyone can adopt. While it seems like there isn't much that we can control amid a pandemic, the things we can always control are: what we put in our bodies and what we do with our bodies.
What you put in your body counts!
Our diet is incredibly powerful to sustain and support our immune system, or to slow it down, based on the nutrient quality of our food. A diet rich in fiber-filled, minimally processed and antioxidant rich foods (think fruits and veggies!) build up the immune system. We should aim for at least one serving of fruit or vegetable, in each color of the rainbow, every day. Staying well hydrated with water is also important for the immune system to function optimally. Eliminating tobacco smoking and limiting our alcohol intake is another tool in boosting the immune system.
What we do with our bodies is equally important!
Exercise is very important to keeping the immune system functioning and has a great effect on mood as well. Aiming for 30 minutes of moderate exercise at least five times a week is the goal, but as little as 20 minutes can support immunity. What a great excuse to get a walk outside in nature daily. Sleep is also very important in keeping the immune system on track – aim for 7-9 hours  nightly in a cool, dark, comfortable room – avoiding screen time before bed can help you go to sleep faster. Social connection and stress management are also key to keeping your whole self well. Schedule zoom meetings or phone calls with friends and family and remember to breathe. Focusing on your self- care with music, art and hobbies reduce stress and support your immune system to keep you healthy.
Link for the image credit
https://www.lifestylemedicine.org/ACLM/Advocacy/CoVid-19_Resources.aspx